11 September 2008 • 12:05 pm • • 1 comments
So yet again it's been a while since I myself have been at my blog. I wonder why I trawl design and fashion blogs every week but somehow keep forgetting about my own.
Anyway. Yes. Twentyone! 090908. I had an awesome birthday. Well, an awesome birthday weekend, in fact! Guess what?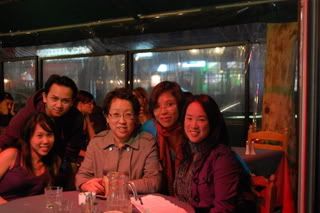 l-r; me, wazir, my aunt from sydney, MUM, and my cousin lynn!
So it was a great surprise. It was sooo great to see mum after more than half a year, and my aunt and cousin being here was a huge surprise too. And Wazir knew about it all along! I'm surprised he managed to keep it from me. My whole weekend was shopping, dining, walking around.. I wish mum could've stayed longer but she had to get back to work.
The facebook messages are rather overwhelming so I hope you all don't hold it against me if I don't reply every single message, but I do appreciate the thought so much. Thanks to all who remembered, I really am touched. No doubt it's getting harder for some of us to keep in touch, being in different countries; it sucks not being able to celebrate with all of you as per usual, but all the same thanks for the text/online messages/cards/phone calls. :)
Anyway mum's gone home now, in fact she had to leave on my birthday; and now it's back to uni and work, for the next 2 months at least.. Then I'm going home! :)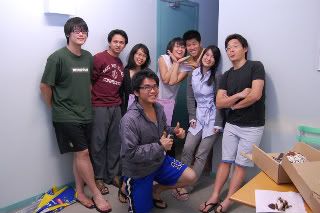 Housemates and neighbours; family.
l-r; fred, wazir, me, lin, loy yang, lynn, ken, and naughtyjack.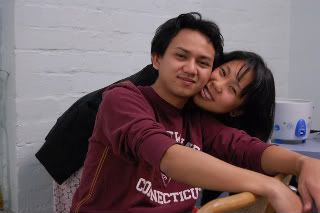 my love.
Gosh photos sure are tiny on this new layout eh?