26 February 2006 • 8:51 pm • • 3 comments
I am at a stage in my life where I am feeling happy. College has been, well, meh, things with Wazir are great, the family's okay... I know I haven't been updating, but really, I haven't been in the mood to blog at all. So many times I opened this page and stared at the blank, white box, but nothing came out.
This week was pretty good.
Jolene phoned me yesterday from Bristol, Yew Sun a few days ago from Manchester, and Joanne last week from New York. I saw Yen on Friday and we had a good talk. Trish and Marlyn invited me for a sleepover last night, but I didn't go. [I had some work to finish. It's was just one of those things where you want to go, but you know you shouldn't. :( Next time, girls, okay? It's my final semester and I need to get serious.] It's great when old friends keep in touch. I feel loved. <3
I got my hair cut yesterday. This is, however, not a brilliant picture. I look so white and pasty because of the flash.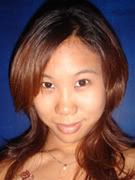 Today Mum and I went to this nail spa to get supplies from this woman and I got to practice doing a manicure on one of her customers. Unpaid, but good experience anyways. Got lots of supplies, which cost a bomb. But looking at them make me happy. My toolbox is incredibly full now. :)
I got tagged by
Shan
a couple of weeks ago, so here it is ::
Current time :: 8.43pm
What are you wearing? :: Tee and shorts.
Name something out of the ordinary on your desk :: There really isn't anything interesting here, just the desktop, laptop, books, and magazines.
Current favourite song(s) :: When you tell me that you love me.
Last thing consumed :: Rice and fish.
Last phone call received :: Wazir.
Current annoyance :: Nothing really, except that it's Monday tomorrow. :/
Plans for the rest of the night :: Watch CSI re-runs and sketch some layouts. Sleep. :)
I tag the following people :: Lazy la.. Well, anyone. Do it if you're bored and you want to. :)
Really, what was the point of that meme anyway??? Lol.
Oh yea, it's Kah Ming's birthday today, and Yew Sun's tomorrow. Hop over to
Sun's
and show him some love. :)