29 October 2005 • 6:20 pm • • 2 comments
I didn't realize I'd been away so long. Of course, there are explanations for this ::
1. The modem at my mum's house is still wonky and it frustrates me so sometimes I can't be bothered to go online.
2. TimeNet Broadband service was down for a few days.
3. I've been swamped with work. So many late nights just working on VectorWorks. >.<
4. The phone line at my dad's house was spoilt, and it was just fixed a few hours ago.
So now I'm on a one week break and I plan to catch up on some good, needed rest. Actually, I have to design a leaflet for my budget accommodation, and also work on my thesis; but that's nothing compared to what I've had to go through over the past few weeks. :D
I went to the city library this morning for a class and my classmates and I got ourselves registered. Quite a nice place. Books weren't as abundant as I imagined it to be, however. Deadlines are in 3 weeks. Which is great, compared to Cenfad's dumb arse library, which only allows you to take books home for 2 days at a time, and if you return it late, you are fined RM1 per day. It's such a hassle to have to constantly renew books. What nonsense.
On Thursday I had a critique session and got lousy grades for it. B-. Bleh. At least I received good reviews for my verbal presentation this time. I quote, "Verbal - GOOD!" Yesh! The last critique I had, I got lousy reviews for that, because I had a really bad tummyache and well, I rushed through the whole thing ala
Gilmore Girls
.. :P
So here are a few pictures ::

Presentation board 1. The 2nd board, for some reason, won't load online.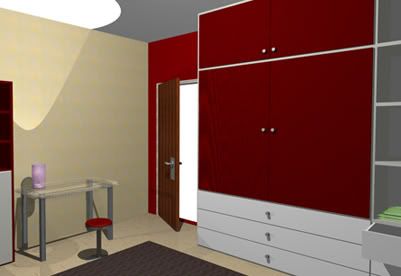 3D model of bedroom for Amran's class.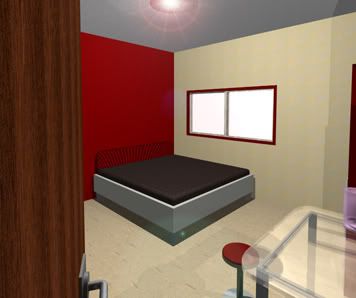 Another view. You all know how much I hate modelling 3D, right?

I honestly can't be bothered to reply each and every message on the tagboard because the space is sooo tiny, so here goes ::
Auds
:: Good luck with everything! Everyone's been so busy it's tough to keep in touch nowadays. :/
Mars
:: Message me on MSN next time you're online and I'll send you the pic. We all look so different from the way we did then. :)
Fra
:: I was just wondering what happened to you! Hehe. *hugss*
Iris
:: Hey.. Thanks for dropping by. How are you? Miss ya. I've been busy, but generally good. :)
Sonia
:: Yeah. I'm so fed up with all these problems. If it's not the broadband service provider, it's the modem. If it's not the modem, it's the phone line. Grrr. Good luck with your work too! I so know what you mean about holidays not being holidays. :/ Tough luck eh?
I've missed you guys. :)